We need to get started to those things, which needs time to matured before they can be enjoyed during the Christmas holiday. So today it is time to make this Christmas aquavita with spices, at it needs minimum 1 week of infusing with the various spices.
I have found this recipe on Christmas aquavita with spices in a small attachment to the weekly Danish magazine Søndag (issue 46/2012). I was forced to make change: I could not find dill seeds any where, so I have replaced the dill seeds with fennel seeds, which I had ready for use in my kitchen.
This blog has been submitted for the Blogging Challenge "Cooking with Herbs & Christmas spieces" December 2013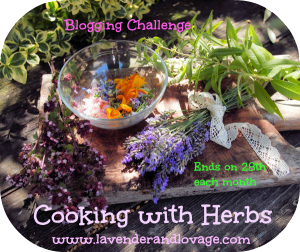 Christmas aquavita with spices:
70 cl of Brøndum Klar (clear flavour Danish aquavita)
3 star anise
1 tablespoon cumin seeds
1 tablespoon fennel seeds
zest of 1 organic lemon
Start by adding boiling water to the storage container. Empty the container after 5 minutes.
Add zest of lemon, cumin seeds, fennel seeds and star anise into the container.
Add the aquavita on top and close the container.
Store the aquavita in the container in a cold and dark place for minimum 1 week.
Let the aquavita run through a sieve in order to remove the lemon zest and spices.
Pour the Christmas aquavita in a clean bottle.
Skål & Glædelig Jul (Cheers and happy Christmas).