It is a wonderful thing to have good work colleagues :-), which are keen to supply you with their excess produce from their kitchen gardens. One of my work colleagues more or less supply with apples and squash upon request.
First he provided me with crab apples for the
crab apple aquavit
, and this time he has collected Belle Boskop apples for me, so I could make apple mash.
UPDATE 4th September 2013: this blog has been submitted for the Blogging Challenge "Cooking with Herbs" September 2013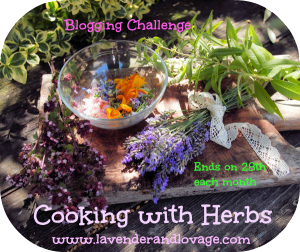 Apple mash with rosemary and vanilla
:
15 apples (cooking apples) = 3½ l apple pieces after removal of core and peel.
4 dl water
75 g sugar
3 stalks of rosemary
1 vanilla pod - pod and vanilla corn
Clean the apples, remove the core, peel and damages part of the apple. Cut the apple into smaller pieces.
Place the apple pieces into the cooking pot.
Add water and sugar.
Cut the rosemary into small fine pieces.
Remove the corn from the vanilla pod.
Add rosemary, vanilla corn and vanilla pod into the cooking pot
Heat up and cook until the apple pieces are soft.
Remove the vanilla pod from the mash.
Mash the apples.
Cool down.
I have a preference for eating apple mash with plain milk on top :-)