I am not a big fan of red white, so therefore I have preference for mulled wine based on white wine as well.
And for a gathering of friends I decided to try a combination of white wine and apple juice in a ratio of 1:1, so it is more "friendly" for the people needing to drive a car afterwards.
In order not to a too sweet mulled wine, I decided not to add extra sugar and I also decided to use a dry white wine.
My guests found this mulled white wine to be quiet refreshing. Last year I also made mulled white wine using a combination of both elder flower cordial and apple juice, which you can find
here
.
4 December 2013: This blog has been submitted for the Blogging Challenge "Cooking with Herbs & Christmas spieces" December 2013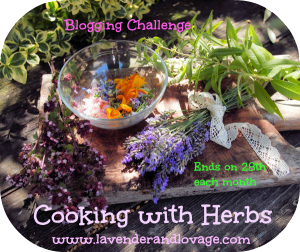 Mulled white wine:
- 1 liter
50 cl dry white wine
50 cl apple juice
1 dried ginger
2 pieces of cinnamon
8 pieces of cloves
½ orange - sliced
almonds and light raisin - optimal
Place the spices in larger tea bags, so you have them under control.
Heat up the apple juice together with spices to the boiling point.
Place the apple juice cold for 12-24 hours.
Add the white wine and slices of oranges to the apple juice.
Heat up the mulled wine, do not let it boil.
Serves in glass or cup, where people individual can add almond splits and raisin according to their preference.